Basement Renovation
Your house may have been the perfect size when you bought it. But now you need more room. Instead of selling your house or hiring a contractor to build an addition, consider a more cost-effective solution: basement renovation by J&A Construction NJ Inc.
Think of your basement as a diamond in the rough. It has walls, a ceiling, and a floor. Now, all you need is the "wow!".  Call (201) 482-3250 to find out how you can transform your basement from a cold concrete jungle to a show-stopping game room, in-law suite, workout area, and more.
J&A Construction NJ Inc has over 19 years of experience remodeling basements. Our innovative designers will help you get started on creating the room of your dreams.
Cramped for space?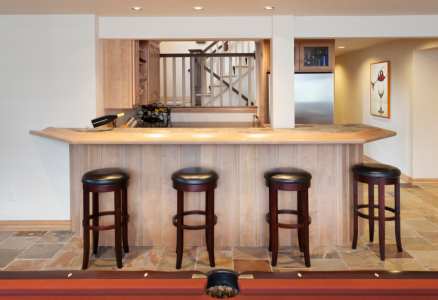 If your living room looks more like "Romper Room," why not build a playroom for the kids downstairs? Add a dedicated craft or hobby area for budding artists.
If you're looking for entertaining space, consider adding a home theater with surround sound, a billiard or game room, a martini bar, wine cellar, or man cave.
Maybe you need to accommodate teens, adult children, or aging parents by adding a bedroom, complete with private bath.
Whatever your needs, J&A Construction NJ Inc will work with your ideas and within your budget to create the perfect getaway space for your family.
We have over 19 years of experience in renovations.
From drab to fab!
Your basement can be so much more than a place to store things you rarely use. In can add functional space for your family. Whether you need space for fun, for work, or for working out, J&A Construction NJ Inc can make it happen.
J&A Construction NJ Inc will take your ideas and create a working design. From there, we will work within your budget to build your room with quality materials. Our basement remodeling contractors include a highly skilled staff of carpenters, electricians, and plumbers to handle any size basement renovation project.
J&A Construction NJ Inc will add all the finishing touches to make your room fabulous. From painting, flooring selection and installation, insulation, lighting, heating, plumbing, and any finish carpentry work, we will professionally complete your basement remodeling job so you will be happy for years to come.
Call (201) 482-3250 to get started on turning your unfinished basement into added living space for your family that you'll want to show off. Let J&A Construction NJ Inc reveal your basement's hidden potential.
Comfort zone.
Don't look for a new house; reinvent the space that's already there. Renovating your basement is a good investment that will increase the value of your home and improve the quality of your life. Create your own personal comfort zone in the privacy of your own house.
J&A Construction NJ Inc has over 19 years of experience in the home improvement industry, specializing in renovating basements and making dreams come true.
---
Call for Fast FREE Quote
---